Celebrating Black History Month
Activity #1
Who am I?
Click here and see if you can figure out who each person pictured is.
Drag the name of each person into the space under his/her picture.
Activity #2
Examine the Excel spreadsheet below.

Copy the information in each cell into a blank spreadsheet.

Try to match the formatting shown as closely as you can.

Complete the information for Date of Birth and Accomplishment.

Sort the data by DOB.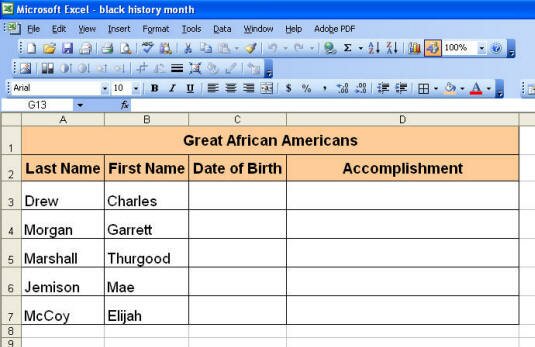 Activity #3
Based on your introduction to the 5 great African Americans named above, pick one individual who most interests you and research further.
More Research Here....

Garrett Augustus Morgan

Elijah McCoy
A. Your first job will be to design a stamp in that person's honor. (PrintShop)




B. Your next assignment will be to write a persuasive letter to the Postmaster General convincing him to issue this stamp. You will include this stamp with your letter.

Include the following:

Include a clear statement of your position .
Include a "hook". (A question or a strong or outrageous statement or fact usually work well.)

Two paragraphs, each one states a reason to support your belief with facts to back it up.

State your belief again and review the main points briefly. End with a personal comment or call for action such as a prediction, a question, a recommendation, or a quotation,