<![if !vml]>

<![endif]>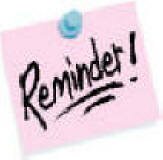 REMINDERS:
> Library books are due back to school every Thursday!!
> Gym is on Tuesdays & Fridays, so please have students wear sneakers
IMPORTANT DATES: JANUARY
> 24 - International Festival Day
> 24 - Birthday Club
> 25 - PTO Mtg. @ 9:00 am & 7:00 pm
> 27 - Board of Ed. Mtg. @ 7:30 pm
> 28 - 6th Grade Spelling Bee
<![if !vml]>

<![endif]>

**HOMEWORK:
*SPELLING-PB (FRI)
(*VOWEL + /r/ sounds)
WEEKLY WORDS: nurse, work, shirt, hurt, first, word, serve, curly, dirt, third, worry, turn, stir, firm, her, girl,
perfect, hamburger

VOCABULARY WORDS: anxiously, degrees, tense, ingredients, recommended, remarked, festive, cross

*REVIEW ALL YOUR WORDS DAILY.
*THERE WILL BE A TEST EVERY FRIDAY ON ALL WORDS!
<![if !vml]><![endif]>

**HOMEWORK: IRL (DUE MON)
*BIOGRAPHY/AUTOBIOGRAPHY BOOK (DUE MON-1/24)
TARGET SKILL: UNDERSTANDING CHARACTERS
TARGET STRATEGY: INFER/PREDICT
WEEKLY STORY: THE EXTRA-GOOD SUNDAY
READ EVERY NIGHT FOR 15 MINUTES!
*THERE WILL BE A READING TEST EVERY FRIDAY!
<![if !vml]>

<![endif]>

**HOMEWORK: STUDY 12X'S TABLE (QUIZ MON-1/24)
*Today we reviewed patterns in preparation for the NJ ASK.
UNIT 5 CONCEPTS: writing whole numbers, money, comparing decimals, & finding maximum, minimum, range
of a data
REVIEW MULTIPLICATION FACTS DAILY (in nb)!