Although The Story of Gilgamesh is a legend, Gilgamesh was in fact a real king who reigned around 2500 B.C.. He is known to have built the city of Uruk. The citys streets were wide enough to accommodate chariots and wagons. On either side of the major streets, the homes of the well-to-do were laid out in neat rows. Behind these were alleys where farmers lived in small, flat-roofed huts. Here, too, resided such artisans as potters and smiths. Standing high above such ordinary houses were the temples of the many gods the people worshipped. Truly, the city must have been one of the most magnificent cities in Mesopotamia.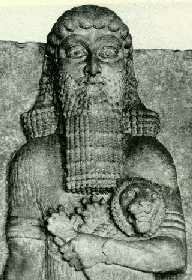 Gilgamesh holding a lion that he captured.
Our knowledge of The Epic of Gilgamesh can be traced to 12 stone tablets that are today in the British Museum in London. The tablets are written in cuneiform, the wedge-shaped writing used by the Sumerians. The story of Gilgamesh and his adventures predates the invention of writing. It was passed down through word-of-mouth until around 2000 B.C. when the Sumerians, using cuneiform script, recorded the epic on clay tablets.

From these tablets the legend of Gilgamesh became known to the world. The tablets also contain the Babylonian account of the Great Flood, and they relate the story of the Babylonian equivalent of the biblical Noah. Stories about the flood appear in the literature of many ancient societies.
The Story of Gilgamesh deals with one mans search for immortality.
Gilgamesh is a historical figure who ruled the city-state of Uruk around 2500 b.c. He is mentioned in the Sumerian list of kings as reigning after the flood. He is said to have ruled for 126 years; certainly an exaggeration, but we can conclude that he enjoyed a long reign.
Ancient peoples believed their gods and goddesses played an important and active role in their lives.
In the epic (long poem or tale about the adventurous deeds of gods and heroes), Enkidu, the wild man who becomes Gilgameshs companion and joins him in his quest for adventure and excitement, is a mythological character.
Can you think of any other character in fact or fiction who has searched for a way to stay forever young?
Want to read more? A delightful retelling of the Gilgamesh story for children, beautifully illustrated, can be found in Ludmilla Zeman's Gilgamesh the King (1992).