THE ELECTORAL COLLEGE
Electoral College FAQ
Surprising Facts about the Electoral College
The people have votedbut Election 2004 isn't over yet. Now the Electoral College takes center stage. Do you have questions about how this 'college' works? Do you realize that the election isn't official until the electors make their choices? Read on for answers to some frequently asked questions.

Q. What is the Electoral College?
A. Good question! It's a group of people, called electors, who meet in their state capitals in December to vote for president.

Q. But wasn't the election over on November 2?
A. Not exactly. When voters cast their ballots on Election Day, they're not voting directly for the president. Instead, they vote for a group of presidential electors pledged to support whichever candidate wins the popular vote.

Q. How many electoral votes does a candidate need to win the presidency?
A. The total number of votes cast by the electors is 538. To be elected president, a candidate must win at least 270 electoral votes.

Q. Does every state have the same number of electors?
A. No. The number of electors is equal to the number of senators and representatives in Congress who represent that state. Every state has two senators and at least one representative, so every state has at least three electoral votes (and the District of Columbia always has three electoral votes). However, the number of representatives from each state changes as that state's population shrinks or grows. The most populous states have more electoral votes than less populated states.
Q. Can the electors vote for any candidate they want?
A. Yes, but Traditionally, electors cast their ballots for the candidate who wins their state's popular vote. Although some state laws require this, the U.S. Constitution does not. However, in the history of the United States, electors have voted for the candidate who won their states' popular vote 99 percent of the time. Very rarely does an elector decide not to cast a ballot for the candidate who won the popular vote in their state. That happened most recently in 2000, when one of the District of Columbia's electors decided to abstain.

Q. What happens if the results in a particular state are very close on Election Day?
A. In most states, it doesn't make any difference. The Electoral College is a winner-take-all system. Even if a candidate were to win by just a few hundred votes, all the Electoral College votes would go to the winner. The loser gets none.

Q. Are there any exceptions to this rule?
A. Yes, Maine and Nebraska are two states that don't have a winner-take-all system. Maine and Nebraska give each congressional district one electoral vote. Each vote goes to whichever candidate wins that district. The remaining two electoral votes go to the statewide winner.

Q. Is it possible for a candidate for president to win the popular vote but lose the electoral vote?
A. Yes. In fact, that happened in 1824, 1876, 1888, and 2000. In 2000, Democrat Al Gore got 500,000 more votes nationwide than George W. Bush. However, Bush won states that had a greater number of Electoral College votes. As a result, Bush won 271 electoral votes, and Gore won 266 electoral votes. (One elector from the District of Columbia abstained.) Whoever wins the Electoral College vote wins the presidency.

Q. What happens if there's a tie?
A. Ties happen rarely. However, when the electoral vote is tied, the U.S. House of Representatives chooses the president. In 1800, Thomas Jefferson and Aaron Burr each received 73 electoral votes. The House decided to make Jefferson president and made Burr vice president.

Q. Why was the Electoral College established?
A. The framers of the U.S. Constitution worried that large states, or a power-hungry leader, would unfairly dominate presidential elections in a popular vote. To avoid this, some people suggested that Congress should select a president. But not everyone thought that Congress should have so much power. The Electoral College was established as a compromise.

Q. Has anyone ever suggested getting rid of the Electoral College in favor of a popular vote?
A. Yes. In fact, there have been debates about whether or not the Electoral College should be abolished almost since it was established. Thomas Jefferson hated the Electoral College system. He called it "the most dangerous blot in our Constitution." Over the past 200 years, more than 700 proposals to change or eliminate the Electoral College have been introduced to Congress. Its supporters, on the other hand, say that the system has worked well for 200 years and that it should not be changed.
Look at the calendar below. Does one day stand out? Why?
November 2000
Sun
Mon
Tue
Wed
Thu
Fri
Sat
1
2
3
4
5
6
7
8
9
10
11
12
13
14
15
16
17
18
19
20
21
22
23
24
25
26
27
28
29
30
So you think your parents are going to vote for a new president next week?
Well, that is not really so. American citizens who are at least 18 years of age have the right to vote--but not for the President directly. They are really voting for people from their state, called electors, who promise to vote for a certain candidate. The candidate that gets most of the popular votes in each state gets all (except Maine and Nebraska) of the electoral votes from that state!
The electors go to the state capital to cast their votes.

It seems like a confusing system, but when our government was created over 200 years ago, they thought it would be too hard for the people to learn about the candidates. Travel and communication in those days were very difficult. The founding fathers did not want to depend on a popular vote.


So...how does this system work?
To be elected President, a candidate must get a majority of all the electoral votes. (That means more than half.) There are a total of 538 electoral votes. Therefore, someone has to get 270 votes to win. If no one gets a majority, then the House of Representatives decides.

Where do these 538 electoral votes come from?

Each state gets as many electors (and therefore electoral votes) as they have Congressmen.
No state has less than three.
By the way...
It can happen that the candidate who gets the most popular votes
does not get enough electoral votes to win the election!
---
LIST OF STATES AND ELECTORAL VOTES
Total: 538; Majority Needed to Elect: 270

| | | | | |
| --- | --- | --- | --- | --- |
| ALABAMA - 9 | HAWAII - 4 | NEW JERSEY - 15 | NORTH CAROLINA - 14 | UTAH - 5 |
| ALASKA - 3 | IDAHO - 4 | MICHIGAN - 18 | NORTH DAKOTA - 3 | VERMONT - 3 |
| ARIZONA - 8 | ILLINOIS - 22 | MINNESOTA - 10 | OHIO - 21 | VIRGINIA - 13 |
| ARKANSAS - 6 | INDIANA - 12 | MISSISSIPPI - 7 | OKLAHOMA - 8 | WASHINGTON - 11 |
| CALIFORNIA - 54 | IOWA - 7 | MISSOURI - 11 | OREGON - 7 | WEST VIRGINIA - 5 |
| COLORADO - 8 | KANSAS - 6 | MONTANA - 3 | PENNSYLVANIA - 23 | WISCONSIN - 11 |
| CONNECTICUT - 8 | KENTUCKY - 8 | NEBRASKA - 5 | RHODE ISLAND - 4 | WYOMING - 3 |
| DELAWARE - 3 | LOUISIANA - 9 | NEVADA - 4 | SOUTH CAROLINA - 8 | |
| DISTRICT OF COLUMBIA - 3 | MAINE - 4 | NEW HAMPSHIRE - 4 | SOUTH DAKOTA - 3 | |
| FLORIDA - 25 | MARYLAND - 10 | NEW MEXICO - 5 | TEXAS - 32 | |
| GEORGIA - 13 | MASSACHUSETTS - 12 | NEW YORK - 33 | TENNESSEE - 11 | |

LESSON #3

Make your own election map. Copy and paste the US map below into "Paint". Color the states green that you think will go for Gore. Color the states blue that you think will go for Bush. Put a legend (key) on your map. After November 7, see how many states you colored correctly.

The title of your map should be:

ELECTION 2000
Electoral Votes

( You will need to go into "Page Setup" to change you layout to "Landscape". )
---
LESSON #3
Go to this site:
http://teacher.scholastic.com/newszone/specialreports/election/index.htm
and read about the recount.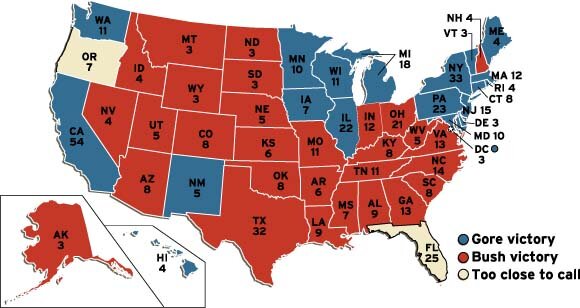 The following ballots are a type of political cartoon. Study both of them.
Go to Microsoft Works, Word Processor. Copy and paste either Ballot A or Ballot B on the page and explain what point the cartoonist was trying to make for the ballot you chose. Include who or what the cartoonist is mocking.
Do not forget to include a topic sentence.
BALLOT A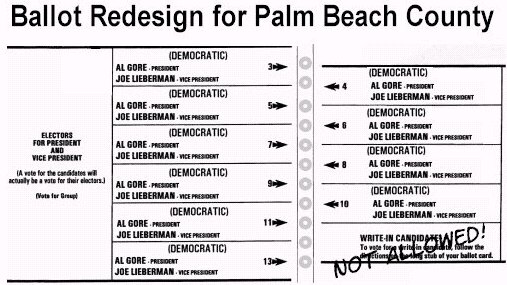 BALLOT B