Please note the following... In order to best serve the educational needs of our growing student population in kindergarten through grade 6, we are forced to temporarily suspend pre-K classes for the 2010-2011 school year. We are simply out of room. We await with great anticipation the construction of our new primary school on River Road. If there are any changes made to the current plan, parents will be notified.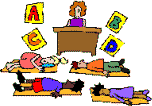 Click to download a complete PDF set of Kindergarten registration forms for each child.
(You must have Adobe Acrobat Reader on your computer to view or print the forms) Get Acrobat Reader by clicking here
Kindergarten Registration
Students must be 5 years old before October 1, 2011
OPEN REGISTRATION: MARCH 7 MARCH 31, 2011
10:00 am 2:00 pm
251 Undercliff Avenue, Edgewater, NJ
In the Main Office

AFTER MARCH 31, REGISTRATION WILL BE
BY FIRST LETTER OF LAST NAME:
APRIL: A H
MAY: I P
JUNE: Q Z
PARENT INFORMATION NIGHT
APRIL 5, 2011, 7PM
EVG Auditorium
All previous pre-k students must re-register for kindergarten.
To register your child, you will need to bring the following:
Your child's Birth Certificate

Proof of residency: all 3 are required (PSE&G utility bill, lease or mortgage & a driver's license)

Immunization Information

Physical (completed by pediatrician) including hearing & vision screenings.

Notarized affidavit A for homeowners.

Notarized affidavit B for renters